Check out this cover reveal for the awesome new book by V.J. Chambers! I don't know about you but I can't wait to read it! Sign up below if you want to be on her mailing list and get notified when the book is out.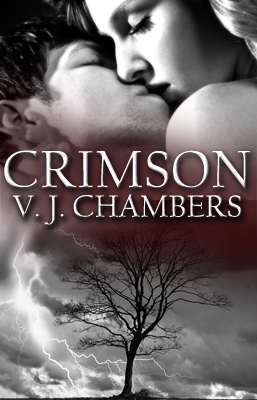 Like your torrid professor-student affairs with a side of gothic magic?
Crimson, by V. J. Chambers,
author of the Jason and Azazel series and
Slow Burn
Professor Carter Alexander may have a sharp tongue and a reputation for reducing freshman acting students to tears, but he's gorgeous. He's the man of Teagan Moss' dreams. Literally. She's been having dreams about him since she was thirteen years old. Yes,
those
kind of dreams.
Teagan's been sheltered, hidden away by her crazy aunts and her even crazier mother, all of whom have cautioned her that the man in her dreams wants to hurt her. But Teagan doesn't believe in their stories of power and evil.
All she wants is to be normal for once.
One night, she's compelled out of her bed by a force she doesn't understand. She finds herself across town on Professor Alexander's porch.
And he's kissing her.
New Adult Paranormal: Intended for mature audiences due to explicit sexual content
To be notified as soon as Crimson is available for purchase, please join my update list: